HAF Program Funding Update
The Wyoming Homeowner Assistance Fund (HAF) Program has helped 885 Wyoming homeowners with $7.1 million in assistance paid. Of those payments, $6.8 million went to delinquent mortgages while $221K covered unpaid utility bills, $69K in unpaid property taxes, $5K for unpaid homeowners insurance and $21K for unpaid homeowner association dues.
The HAF Program is a temporary federally funded program. Even though households may be eligible for assistance, we cannot promise funding will be available in the future. Interested households should not wait to apply or seek help with their application.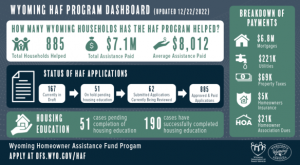 Holiday Closures for Call Center
The call centers for both the Emergency Rental Assistance Program (ERAP) and the Wyoming Homeowner Assistance Fund (HAF) Program will be closed Monday, December 26 and Monday, January 2 for the holidays. Both call centers will reopen the Tuesdays following the holiday closures at 9 am. For information about the programs, please visit dfs.wyo.gov/ERAP for ERAP or dfs.wyo.gov/HAF for the HAF Program.
HAF RESOURCES
ONLINE: Learn more about HAF online at dfs.wyo.gov/haf.
VIA PHONE: For application assistance, please contact the call center toll-free at 1-888-WYO-HAFP (1-888-996-4237) from 9 a.m. – 6 p.m. Monday through Friday.
FLYER: If you or someone you know is interested in the HAF Program, please download and share the flyer. Download the English version or the Spanish version.